1 Get Started
It is simple to download, install, purchase, and activate the software. Follow the below steps.
1.1 Download & Install
Step 1. Download Kingshiper Audio Editor.
If you don't have Kingshiper Audio Editor yet, click the button below to download it. Or visit here to download it.

Step 2. Install Kingshiper Audio Editor.
From the pop-up window, you can click the Install button to install our product as the default or you could choose the Customize Install option. After that, you can click the Install to go ahead.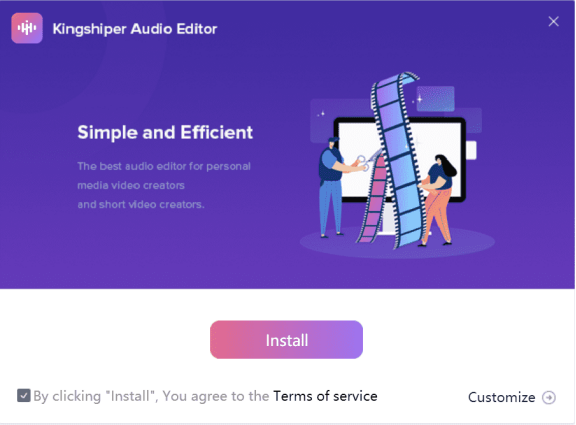 Step 3. Launch Kingshiper Audio Editor.
It will take seconds to install Kingshiper Audio Editor successfully. A window like the one below will prompt you that you click the Start Now button to open Kingshiper Audio Editor at once.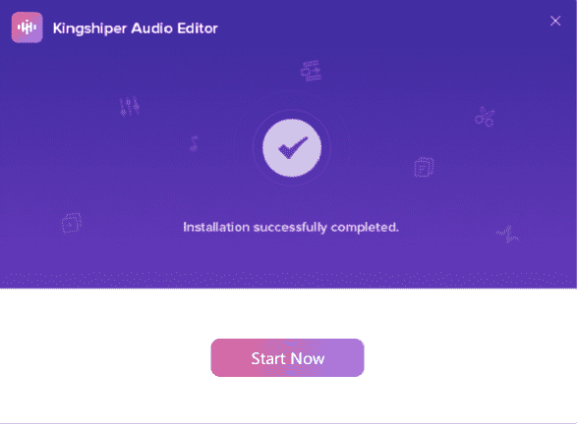 Finally, you will enter the main window of Kingshiper Audio Editor shown below.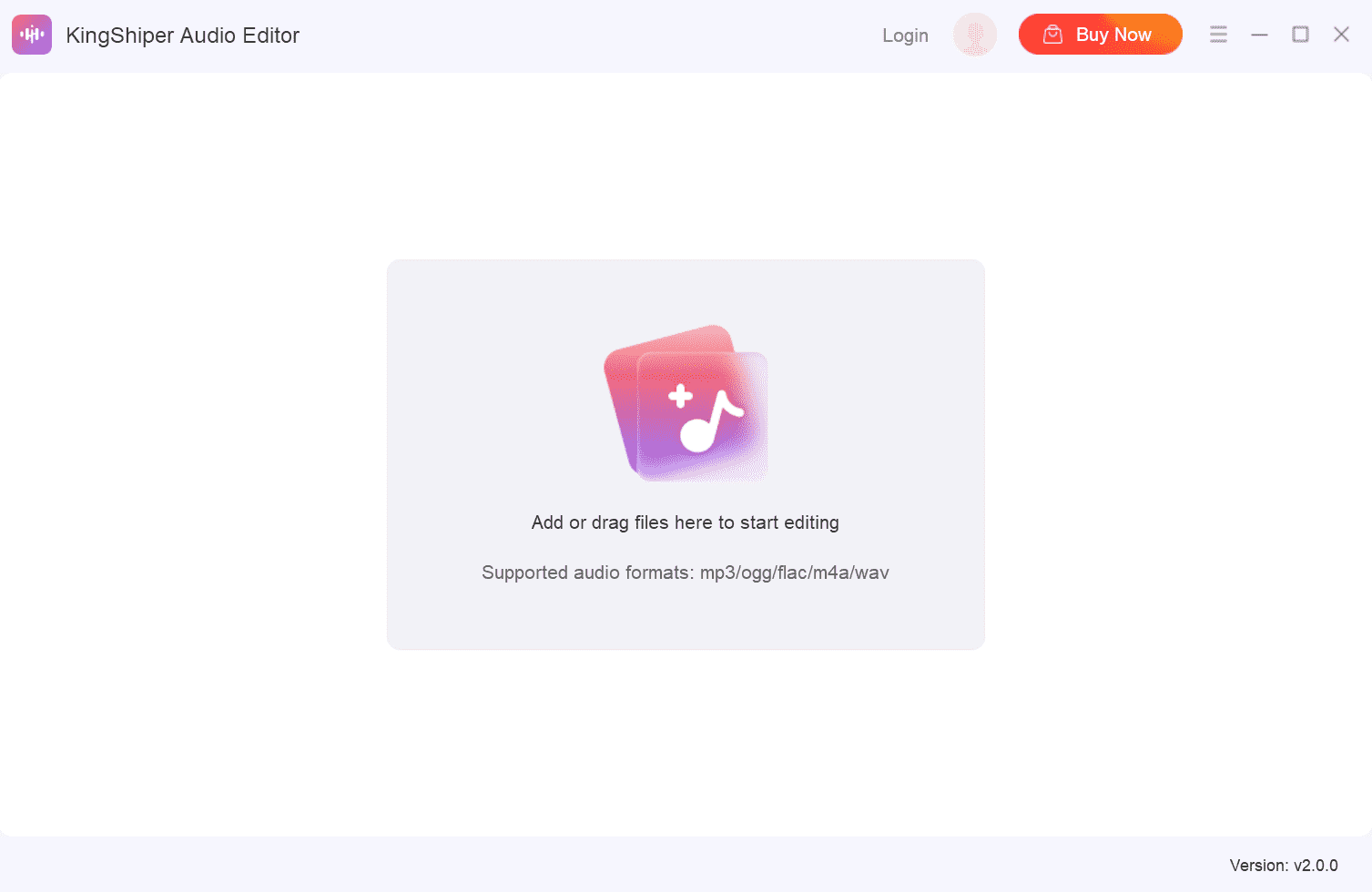 1.2 Login with Kingshiper Account(Register) & Update & Uninstall
1.2.1 Login Kingshiper Audio Editor with Kingshiper Account
With the premium version of Kingshiper Audio Editor, you'll have the following permissions.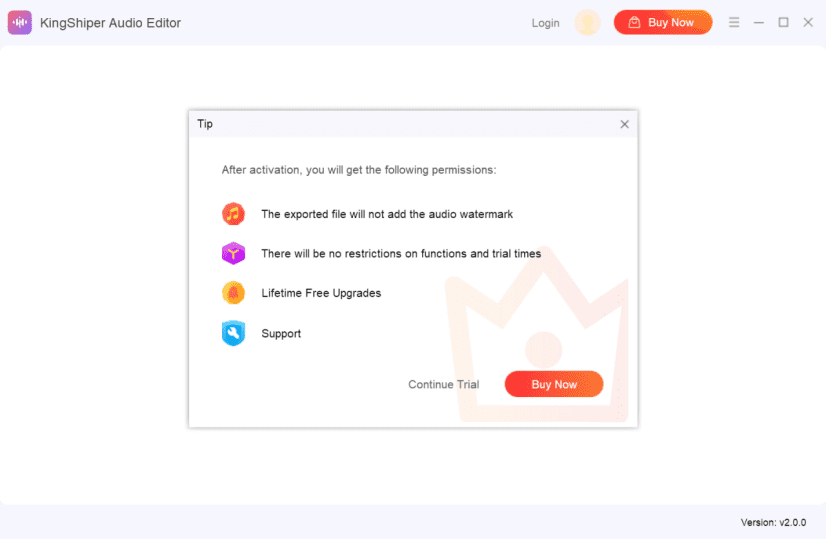 If you want to enjoy the full features without any limitations, please simply click the Buy Now option in the upper-right corner to purchase Kingshiper Audio Editor from the official website.
If you have already purchased Kingshiper Audio Editor, please log in with the Kingshiper Account by clicking the Person icon.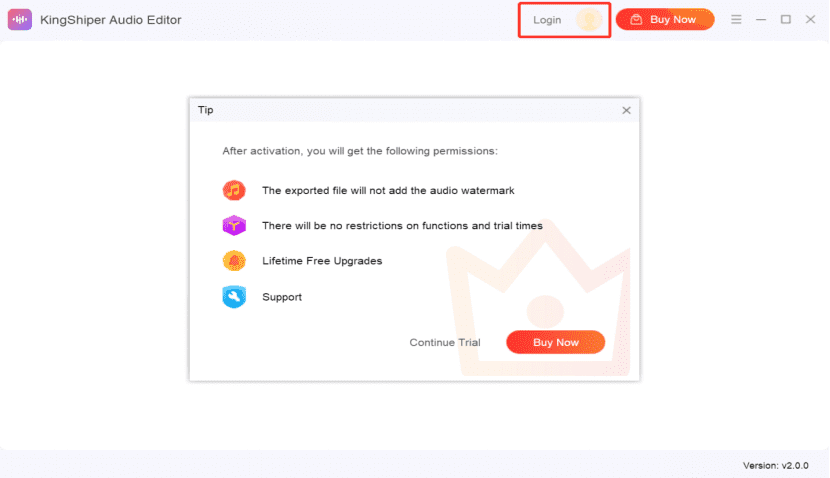 1.2.2 What is Kingshiper Account?
Kingshiper Account refers to the account you created from Kingshiper Audio Editor. It helps you manage your order details and log in to Kingshiper products that support Kingshiper Account.
1.2.3.4 How to log in to Kingshiper Audio Editor?
Launch Kingshiper Audio Editor after installation, and click on the Person icon in the right-top corner to get a new window as below.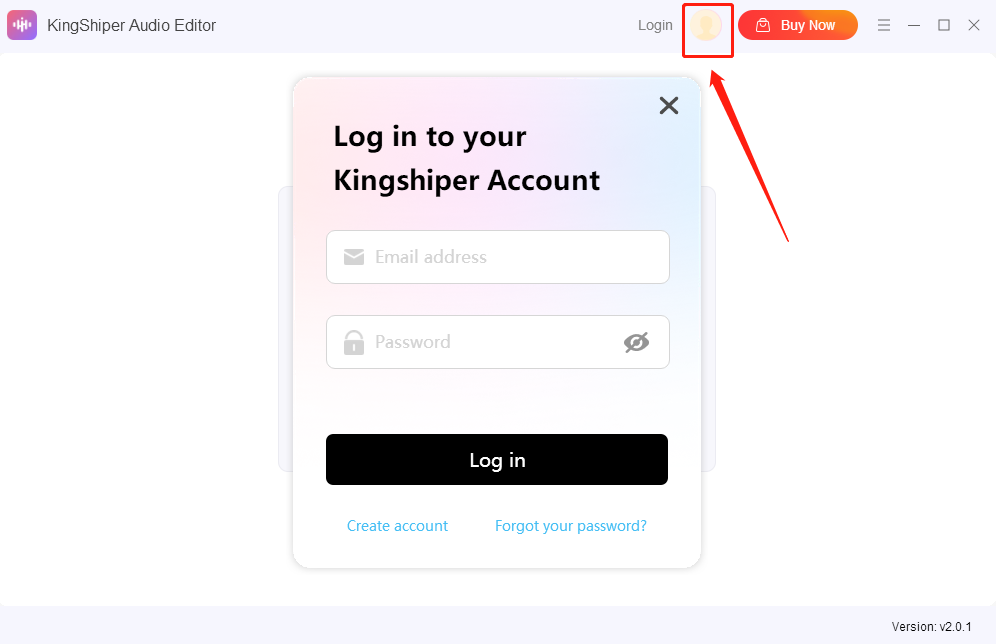 If you don't have a Kingshiper Account, then you need to click the Create account here option on the initial interface and create a new account.
You'll get a new interface to enter your email address and set a password, and then click on the Create Account button to create the account.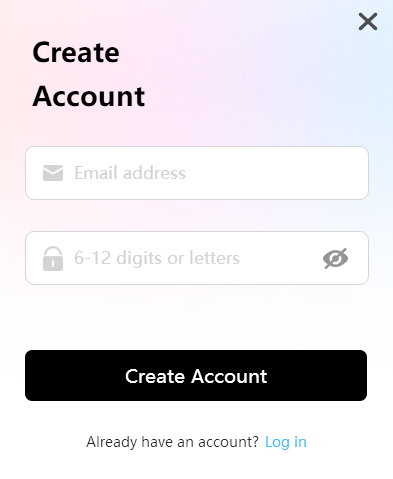 1.2.5 What can you do with Kingshiper Account?
You can click on the Renew button to open the Kingshiper official website and click on the Person icon, then choose "Account Center". You can edit your profile, change your password, and check your order on this page.
Overview: From this tab, you can find your Plan & Products, history Orders, Coupons, and Account information.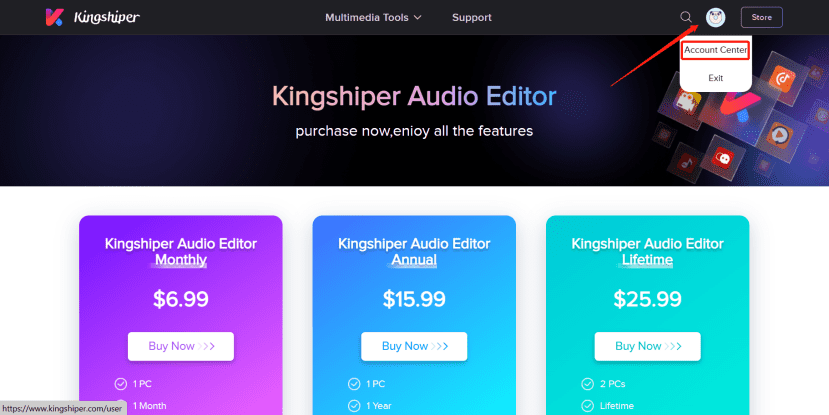 My order: You can find the Product, Payment, Date, and Status of all your Kingshiper products.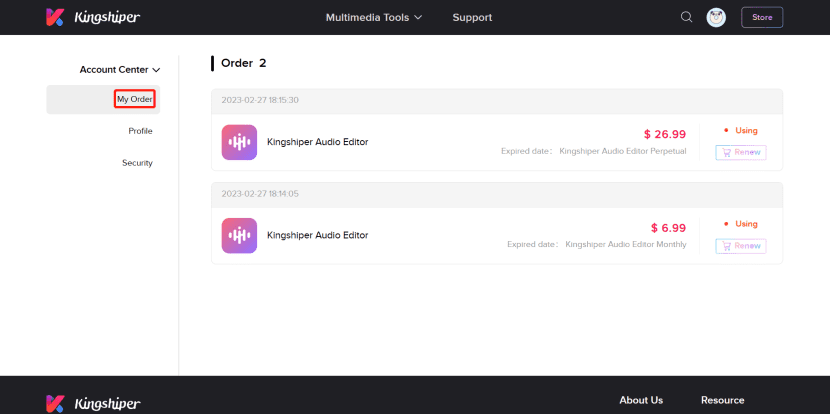 Profile: You can edit your personal information from this tab.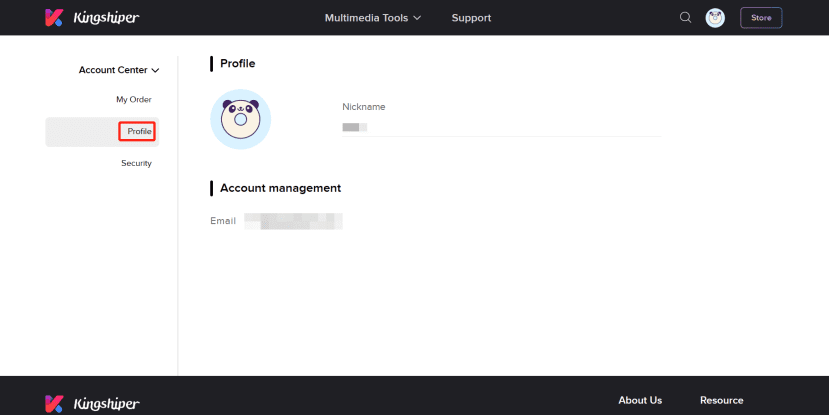 Security: You can change your password here.
1.2.6 Update
If you want to check if your Kingshiper Audio Editor is the latest version and update it, you can follow the steps below to update automatically.
Step 1. Check for Updates.
Go to the Menu icon, and click "Check for Updates". It will pop up a Live Update window, please select Update Now to download the package.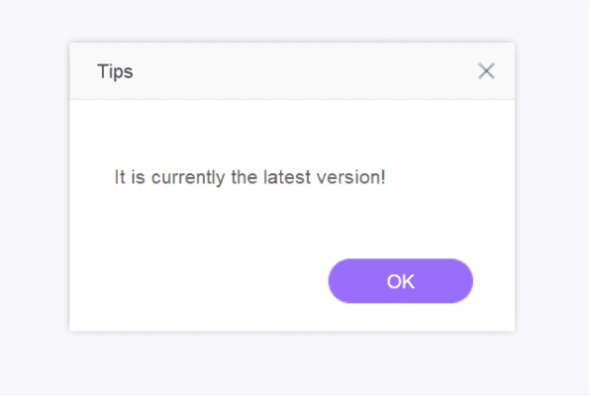 Step 2. Update the package.
After downloading the latest version, please press OK to terminate the program and install the new version from the pop-up window. You can also click Cancel to install it next time.
1.2.7 Uninstall
Go to Control Panel > Programs >Programs and Features > Uninstall and then right-click the icon of Kingshiper Audio Editor and select Uninstall. Click OK when asked "Are you sure to delete the configuration information?"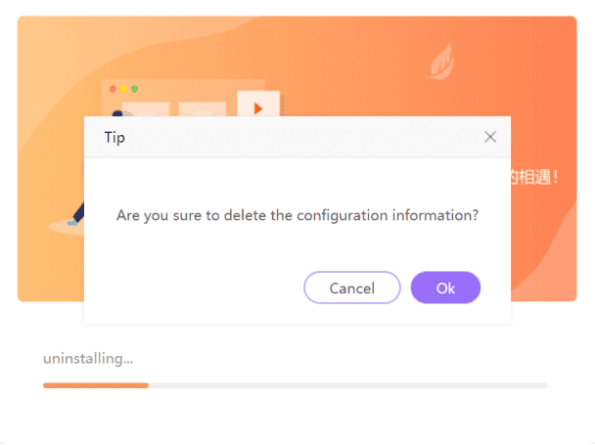 1.3 Brief Introduction
Thank you for your interest in Kingshiper Audio Editor which is a reliable and efficient audio editing software. It offers cutting, merging, mixing, noise reduction and other functions. The main feature is simple and easy to use, for both novice and professional users. Using this software, we can simply re-edit recorded audio files and create ringtones, adding a unique personality to life.
Supported input audio formats: mp3、mp2、ogg、flac、m4a、wav、amr、ac3、wma、aiff、aifc、caf、m4r、aac、wv、mmf、ape、amr、au、voc、3gp、avi、flv、mkv、mov、mp4、mpg、swf、wmv、3gpp
Supported output audio formats: mp3、wav、ogg、flac、mp2、m4a、ac3、wma
2 How to Use Kingshiper Audio Editor
2.1 Shortcut Keys
There are some shortcut keys for you to better operate Kingshiper Audio Editor and be more efficient. After opening the program, you can refer to the following instructions to work.
| | | |
| --- | --- | --- |
| Module | Command | Windows Shortcuts |
| Edit | Control + C | Copy |
| Edit | Control + V | Paste |
| Edit | Control+ Z | Undo |
| Edit | Control + Y | Redo |
| Edit | Control + A | Select All |
| Edit | Control + X | Cut |
| Edit | Control + S | Trim |
| Edit | Space | Play |
| Edit | Control + mouse wheel | In/Out |
2.2 Basic Editing
2.2.1 Copy/Paste
Select one clip of audio that we can copy and paste.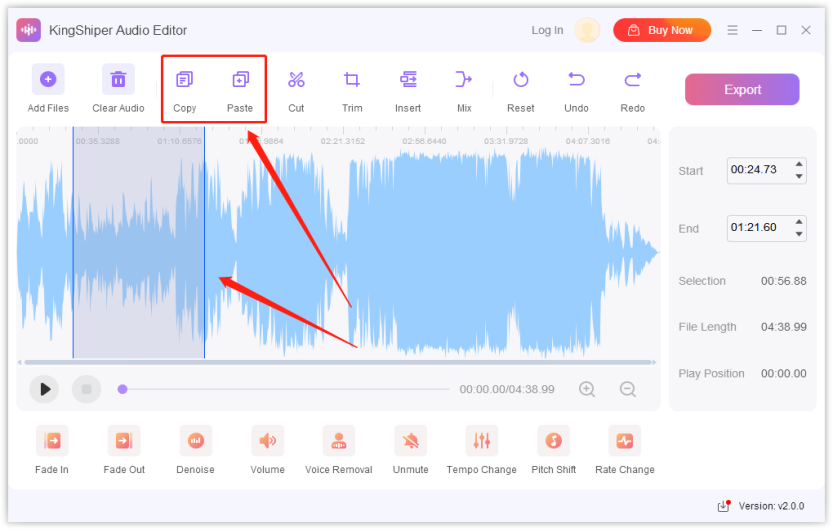 2.2.2 Cut
Select one clip of unwanted audio and click on the "Cut" button to delete it.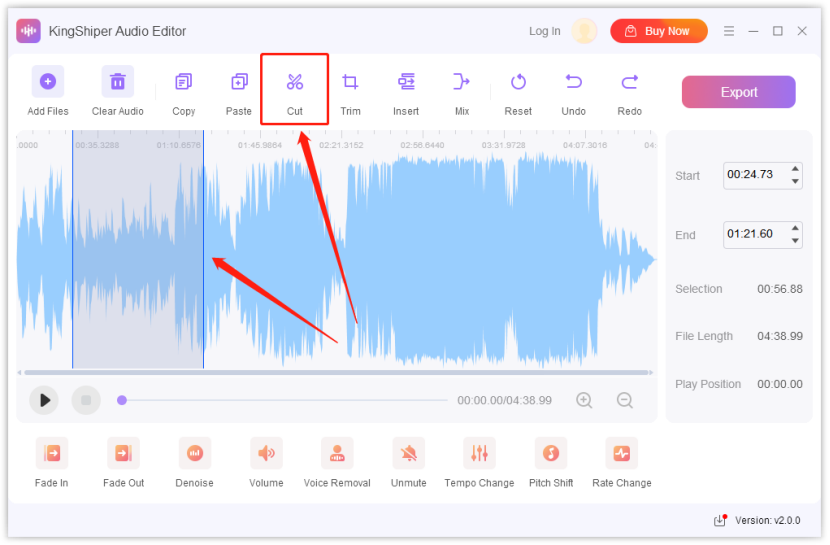 2.2.3 Trim
Click on the "Trim" button to clip and edit the parts of the audio file precisely.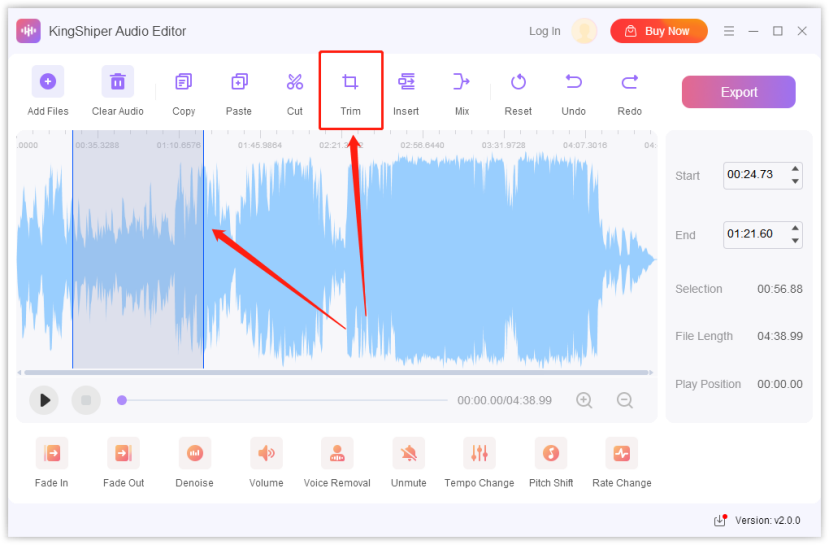 2.2.4 Insert
Click "Insert" to add a mute or new audio content to the original audio.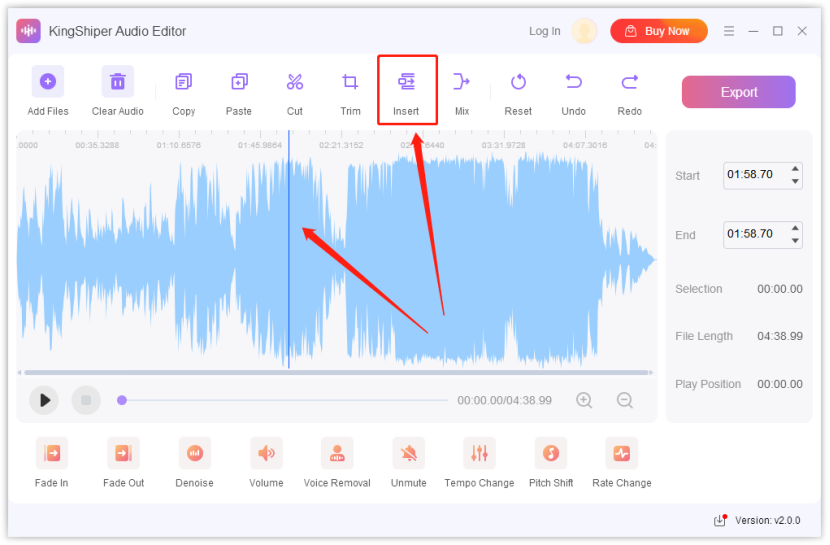 2.2.5 Mix
Select one clip of audio you want to mix, and click on the "Mix" button, then two different audio clips or different parts of the same audio clips will be mixed.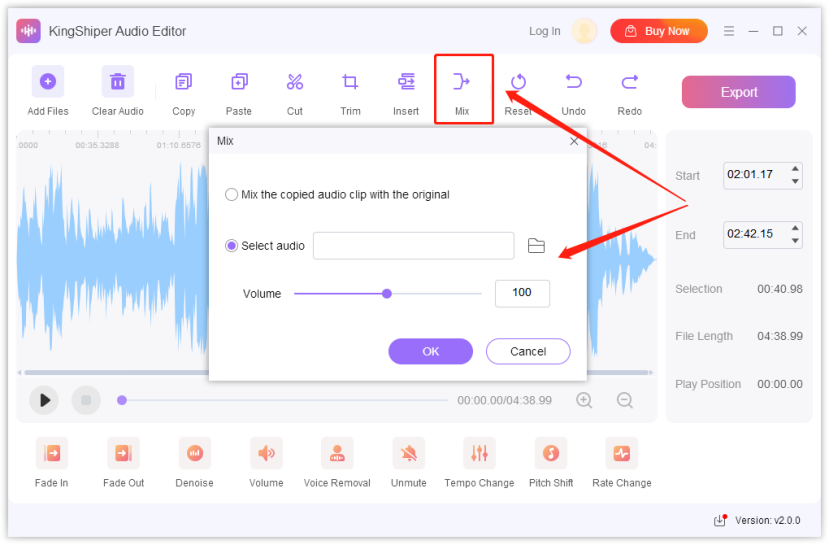 2.2.6 Reset
Click "Reset" to cancel all operations and restore the audio to its original state.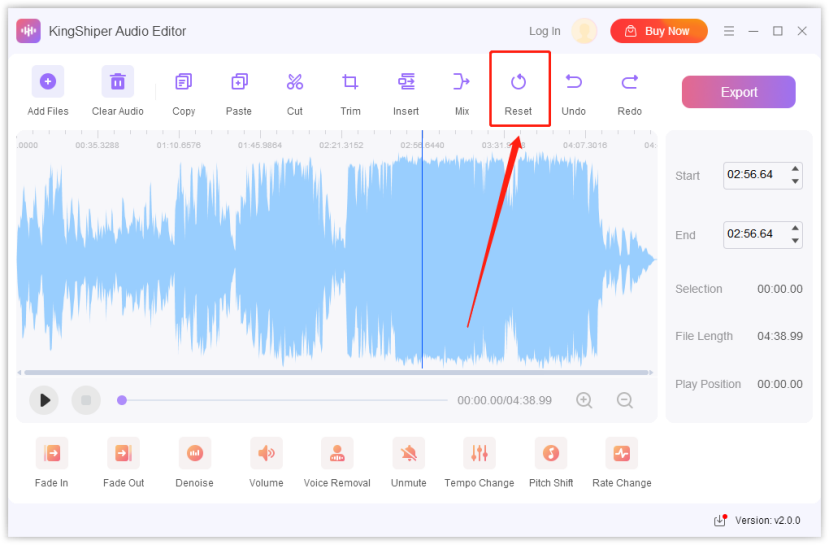 2.2.7 Undo/Redo
Select "Undo" to return to the previous operation and "Redo" to cancel all current operations.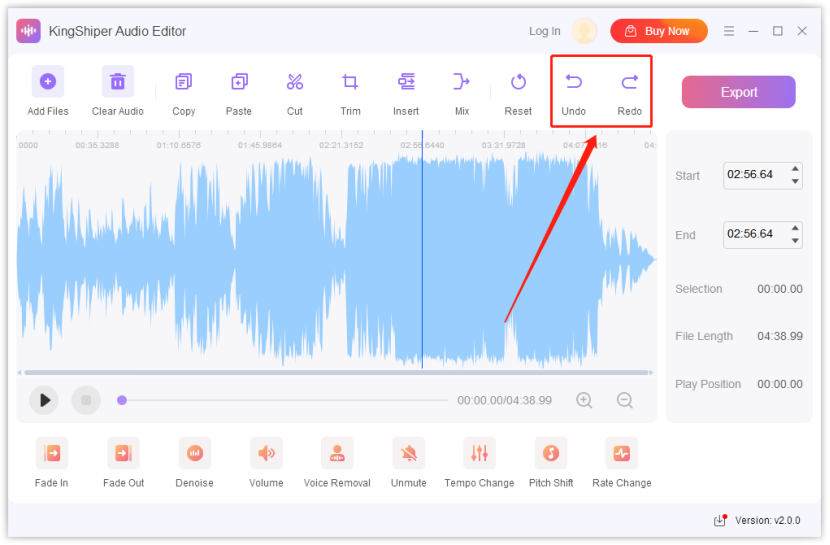 2.2.8 Zoom in/out
By selecting this operation, we can zoom in or out on the audio waveform graph for more accurate editing of the audio.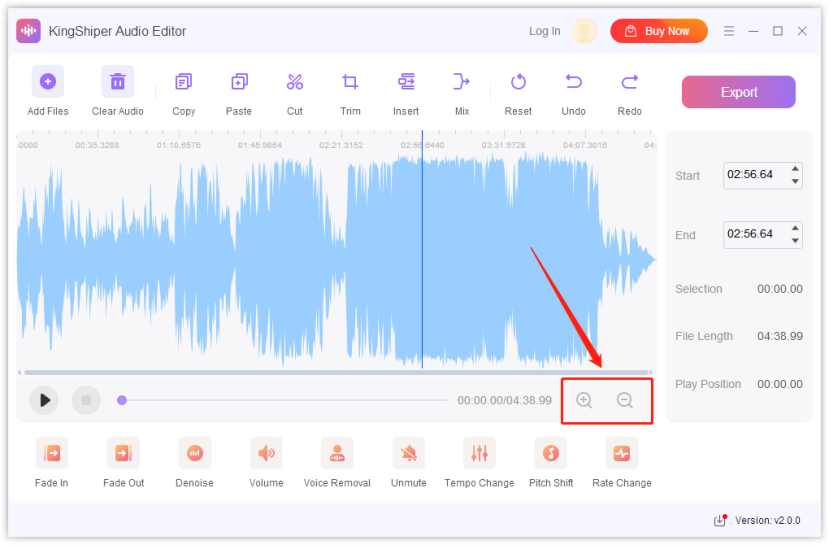 2.3 Add Effects
2.3.1 fade-in/out
If we want to achieve the effect of that progressive increase in volume at the beginning or a gradual decrease at the end of the audio, we can choose the "fade-in" or "fade-out".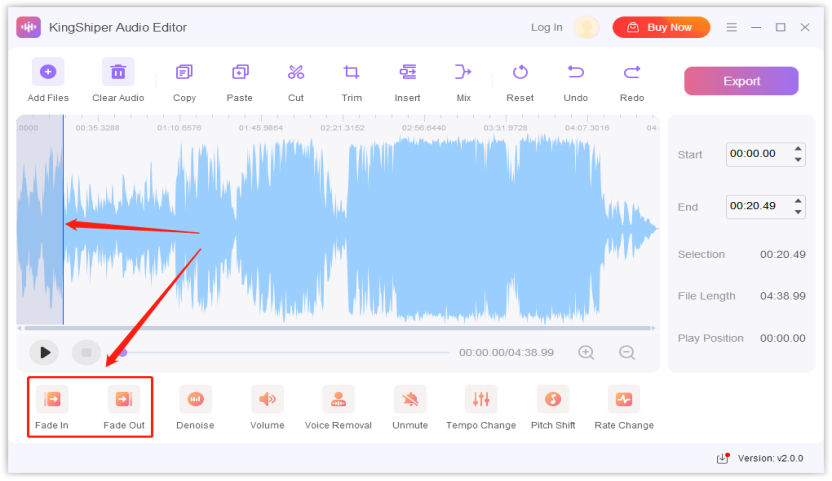 2.3.2 Denoise
If there is some irrelevant noise in the audio, then select "Denoise" for noise reduction.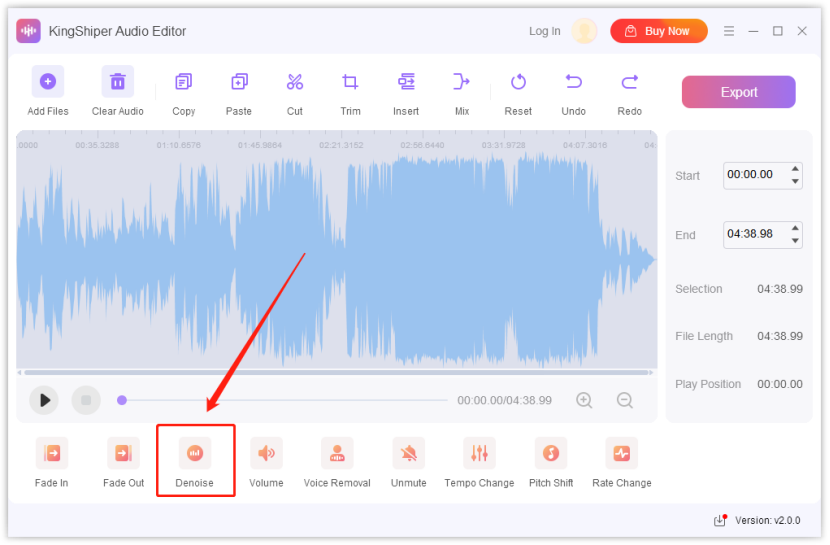 2.3.3 Volume
Select this effect to make an appropriate volume adjustment to the audio.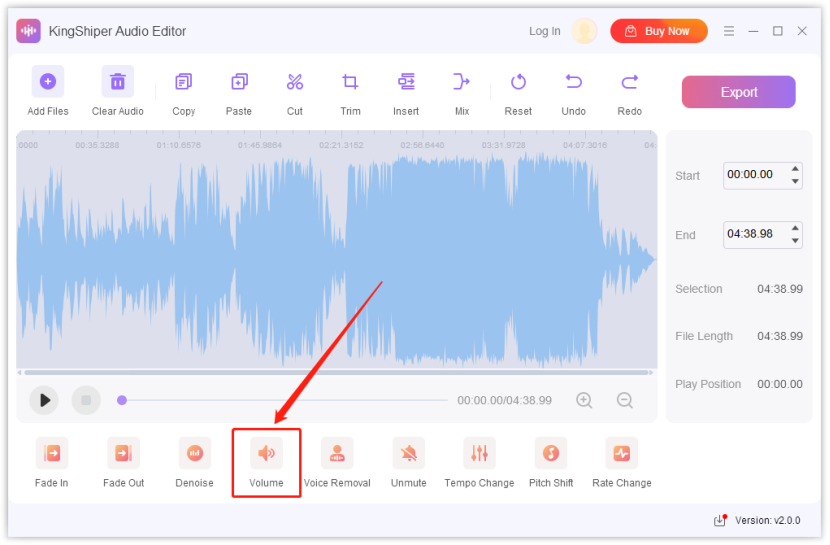 2.3.4 Unmute
If there are frequent muted parts in the audio, click on the "Unmute" button to quickly remove them.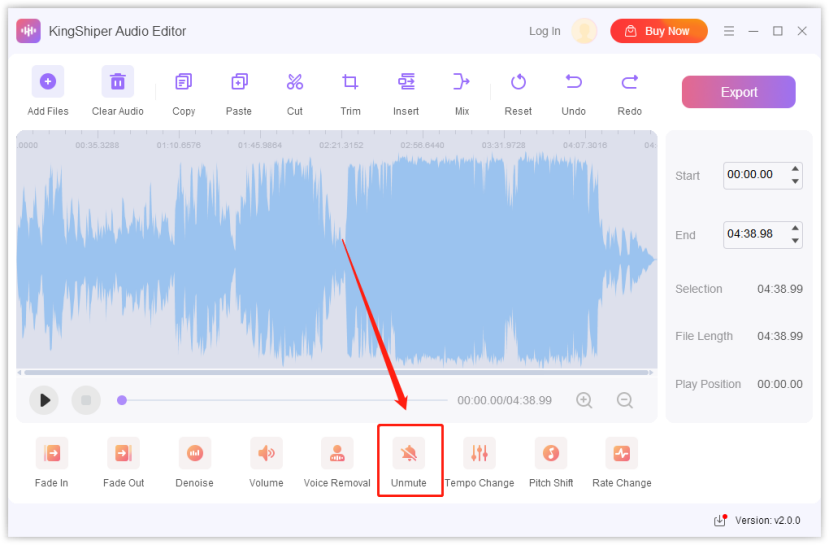 2.3.5 Voice Removal
By selecting this effect, we can remove the vocal strength according to the range of Hertz (from low to high) and the parameters can be customized.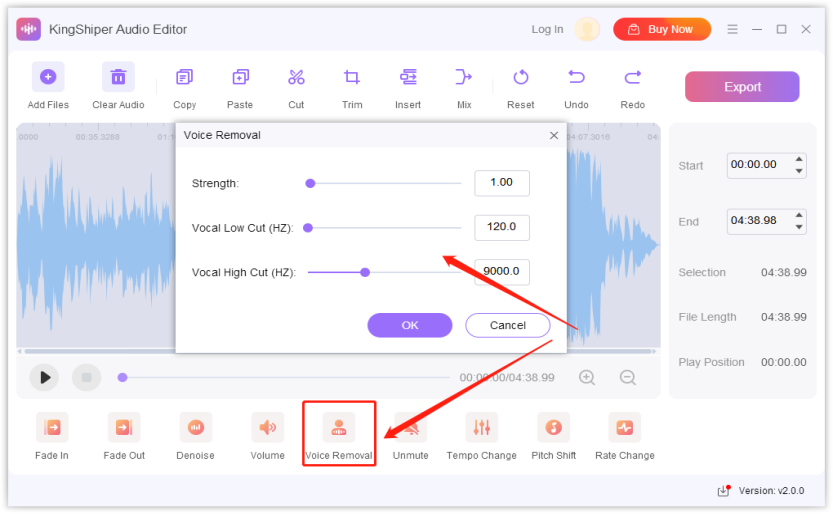 2.3.6 Tempo change
By selecting this effect, we can change the tempo of the audio while keeping the pitch constant, and the number and length of beats can be customized.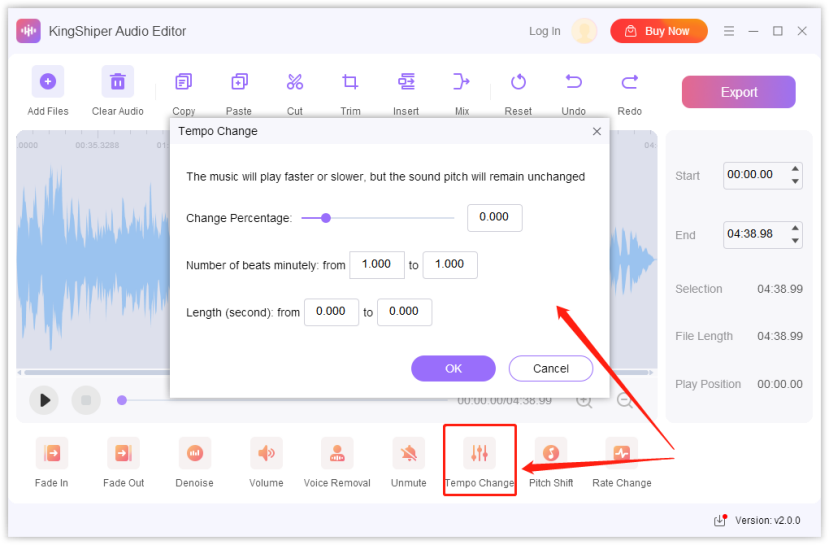 2.3.7 Pitch Shift
To change the pitch of the audio, select this effect; here you can change each parameter as per your request.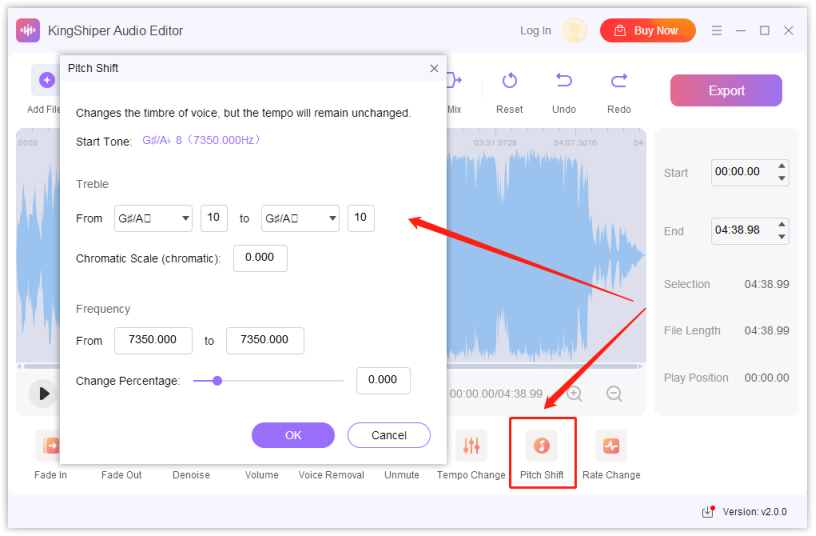 2.3.8 Rate Change
With this effect, we can adjust the multiplier speed and tone of the sound so that audio playback speeds will be changed.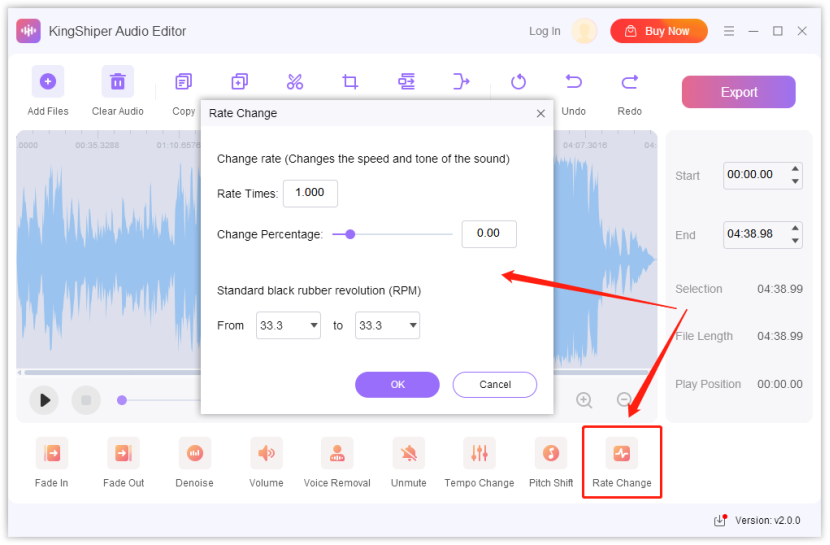 3 Support and Help
Didn't find what you were looking for? Need help with a problem? Have a suggestion? Contact our support team and we'll help you right away.
Submit Tickets: https://www.kingshiper.com/contact
Email: [email protected]